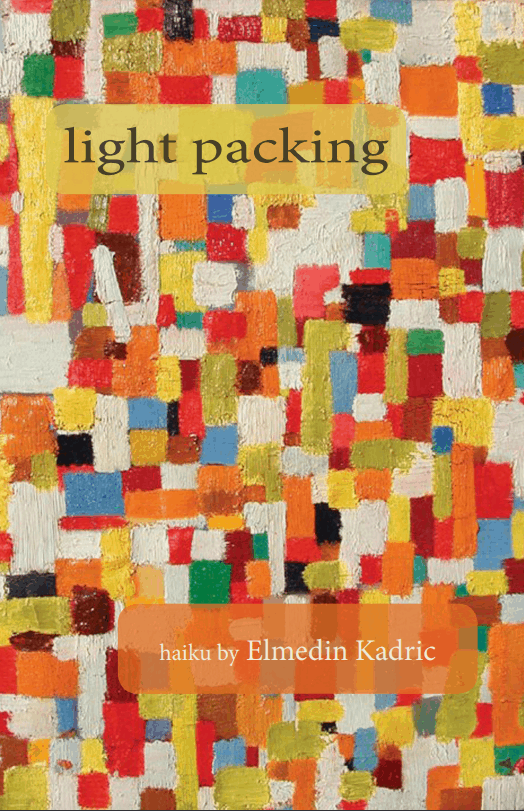 I honestly try my best every time to put into words the gratitude I feel, but I fail miserably again and again. So what I decided to do this time around was to just go to the Haiku Foundation and copy the words pertaining to my collection and then get back here and paste, and then leave it at that. So, here it goes:
"Elmedin Kadric is the recipient of a Touchstone Distinguished Books Honorable Mention for 2020 for his volume light packing (Winchester VA: Red Moon Press, 2020).
Commentary from the Panel:
Elmedin Kadric's collection light packing reveals realities embodied in words of an expansive orientation and in ways that make use of fragment/phrase, shifting one-liners, disjunctive language, understatement, and original juxtapositions, with an innovative voice that seeks to direct our attention to imaginative metaphoric relationships. Like the bright, warm interlocking colors of John Grillo's abstract 'slab' painting found on the cover of light packing, Kadric has crafted a mosaic of individual haiku that often relate to one another, with sequences of feeling at interplay with bright textures of connection and contrast within a structure of apparent randomness. Kadric's is a collection of haiku/minimalist poetry that widens our view of ELH.
In light packing the reader will find four untitled, numbered sections that roughly reflect the seasons (spring, all seasons, autumn/winter, and spring again), with eighty-six haiku, one per page, in a range of formats, one-liners, two-lines, three-liners, four-lines, skipping lines, and vertical lines, adding variety to the reader's experience and providing the necessary space to savor each word. At the outset, the reader is greeted with a visual ku "to/get/her" at the book's beginning and another one "I am/am I" as a bookend to the entire experience of light packing. These visual poems set out two recurrent themes of the work, namely, the separation and isolation of departure and the arrival of coherence, with rain often as the vehicle for such feelings.
so us
you say . . .
white blossom rain

*

her fairy tale
in first person
spring rain

*

coolness of rain before she takes it back

*

alone at the door holding open the rain

*

your absence
the only sound
faraway rain

*

opening the balcony door
to my neighbor
the rain
Kadric also pays close attention to sound patterns as we see in the first haiku of the book and the penultimate poem, as he opens and nearly closes his work with springtime birdsong in deceptively simple language, with the near and internal rhymes, repeating consonants, and word repetition. This is a work with cohesive textures.
at the touch
of birdsong

the first blush
of spring

*

on and on
in birdsong
spring dawn
Many of these haiku are open poems that engage the reader on multiple levels.
together again the endless spaces between stars

*

autumn evening light packing

*

forget yourself and other hummingbirds

*

snail shells we leave behind language

*

quoting life moth night
And then there's this moving interlocking sequence of a lost relationship.
all the seasons
sitting
by her deathbed

*

circling the drain . . .
the discolored water
of a cut flower

*

driving home —
nobody to hold
the ashes

*

from living
to living
alone

*

waning moon
space
a thief left
Kadric draws attention to language itself as the material for creating worlds, often playfully yet with serious purpose, placing great emphasis on the imagination, reminding us of the importance of the reader's role in the co-creation of meaning. These haiku are highly engaging, slowing the reader down, and inviting one to look more deeply inward with each rereading. light packing is a noteworthy achievement."